NODU
Duisburg Nord Landscape Park, DE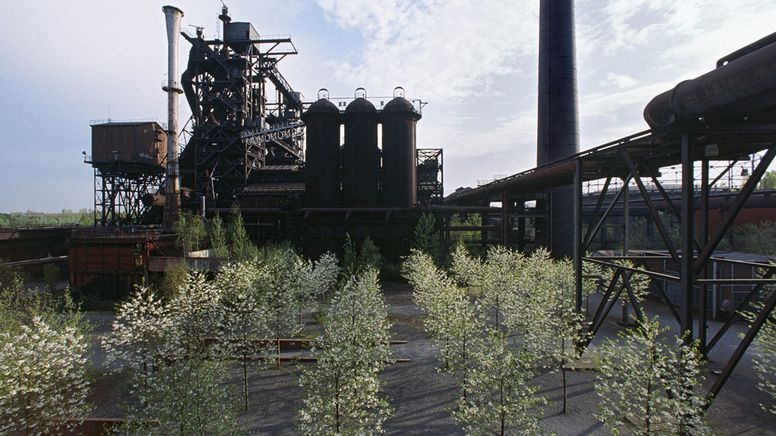 Metamorphosis of the blast furnace plant Thyssen-Meiderich into a landscape park
With some 100 projects, the International Building Exhibition Emscher Park (IBA) in the Ruhr District was attempting to set quality building and planning standards for the environmental, economic and social transformation of an old industrialised region. The landscape park Duisburg Nord is one of these projects. The idea was to integrate, shape, develop and interlink the existing patterns that were formed by its previous industrial use, and to find a new interpretation with a new syntax. The existing fragments were to be interlaced into a new "landscape".
In the landscape park Duisburg Nord, individual systems operate independently, such as the low-lying water park, the single fields and clumps of vegetation, the promenades at street level connecting parts of the town which were separated for decades, and the railway park with its high level promenades and the rail harp. They connect only at certain points through specific visual, functional or merely imaginary linking elements.
Created collectively as an artwork by engineers, the rail harp reflects the centennial history of the place. The huge land art slowly emerged again due to a cautious vegetation management with the help of the gardeners.
Awards:
Green Good Design Award 2009

EDRA

Places Award 2005
Play & Leisure Award 2004
Grande Medaille d´Urbanisme 2001
1st European Prize for Landscape Architecture Rosa Barba 2000
>>&nbspPartial project Blast Furnace Park
>>&nbspPartial project Sinter Park
>>&nbspPartial project Waterpark
>>&nbspPartial project The railway park
>>&nbspPartial project adventure playground
>>&nbspPartial project Ore Bunker Gallery
>>&nbspfor publication on gooood (Chinese) 中文
Design and realization: 1990 – 2002
1st prize in international competition
Project team: Latz + Partner, Latz-Riehl, G. Lipkowsky
Realization by help of citizens' action, associations and employment schemes.
Clients: Landesentwicklungsgesellschaft Nordrhein-Westfalen, Stadt Duisburg, Emschergenossenschaft Essen, Kommunalverband Ruhrgebiet
Area: 200 hectares




Author: Peter Latz, 2016
Authors of forewords, 'In Focus' contributions, epilogue: Karl Ganser, Marc Treib, Karl-Heinz Danielzik, Jörg Dettmar, Peter Keil, Egbert Bodmann, Ralf Winkels, Günther Lipkowsky, Tilman Latz, Wigbert Riehl, Kerstin Walter
Conception and realisation of the book: Peter Latz, Cordula Gielen, Anneliese Latz, Tilman Latz
With photographs from: Michael Latz (www.latz-fotografie.de/), Thomas Berns, Barrett Doherty, Jane Sebire, Christa Panick, Peter Liedtke, Manfred Vollmer, et al.
(288 pages, 300 color illustrations, 22 × 28 cm, hardcover, ISBN: 978-3-7774-2427-9)
>> For further information and reviews please click here.