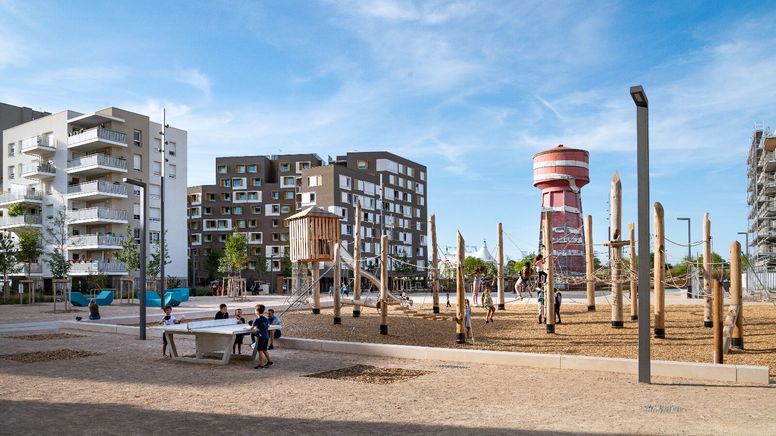 Creation of a public space on the site of the former textile factory
In the town of Vaulx-en-Velin, the demolition of a part of the TASE silk production plant has given way to a potential public space between the former workers' housing estates and the multimodal hub. The water tower, the facades of the factory and part of the sheds are the emblematic elements of the site, which have been preserved and enhanced in the development project.
Impelled by a citizen's initiative, the design was carried out in consultation process with the residents. The requests and objectives were to create a generously planted promenade, to enhance the industrial past and to create a space for relaxation and play.
The aim was to convey the history of the city and to create a green oasis in the middle of new, densely populated development areas.
The central space gives way to a canopy of fine foliage, which replaces the roof of the old sheds. The ground space is left clear and invites free movement between sculptural, but mobile, foundations that can be repositioned according to the use of space.
The plant pattern defined by shrubs, perennials and hydroseeding creates a protective border along residential buildings. Their matrix is inspired by the ancient fabrics used in the manufacture of silk fabrics.
Award:
YUANYEAWARD for Professionals 2021: Silver Award in the category Urban Design
Design and realization since: 2016,
Completion of the 1st construction phase 2020
Resident Consultation Workshops : 2016
Team: Latz + Partner and MRP Paysage, EGIS (engineer), Marc Aurel (lighting design), Milieu Studio (environmental engineer) Arènes (co-conception)
Client: Métropole de Lyon /City of Vauxl-en-Velin
Area: 2,8 hectares