PASH
Park Ariel Sharon, Tel Aviv, IL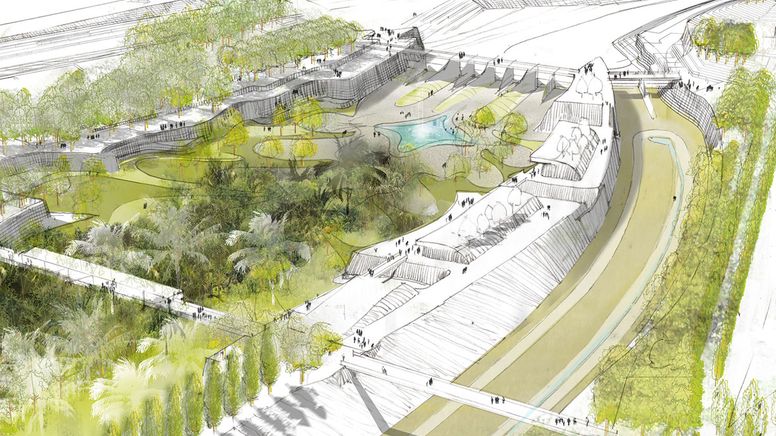 Development of the Ayalon flood plain into a park
The Park Ariel Sharon will evolve from the wide river plain of the Ayalon. A carefully built topography is to effect both: protection of the town from being flooded in winter and development of a public near-natural park.
The heart of the park will come into being through excavation of 7 million of cubic metres of soil: within the huge retention basin the "Wide Wild Wadi" will be developed similar to a primeval forest.
Gently sloping terraces built from excavation material and covered with "agricultural patterns", are forming the second major landscape element.
In – between the Wadi and the terraces, promenades, places, lakes and other park elements are forming the "Human Corridor".
Together with the newly created landscape on the Hiriya Mountain, there emerges a park with several layers.
Green Good Design 2010 Award
One more click for privacy. Only when you click, the video is loaded.
Source: Vimeo
Drainageplan: 2008 – 2009
In cooperation with Tahal Ltd, MWH, Palgey Maim Ltd, Braudo-Maoz, Starr Whitehouse, AFIK
Further development master plan: 2009 – 2013
Detailing Entrance North: since 2014
Together with local landscape architects
Clients: Yarkon Drainage Authority, Park Ariel Sharon Ltd.
Total surface: 841 hectares