W457
Elion Tianjin Binhai Sino-Singapore Eco-City, CN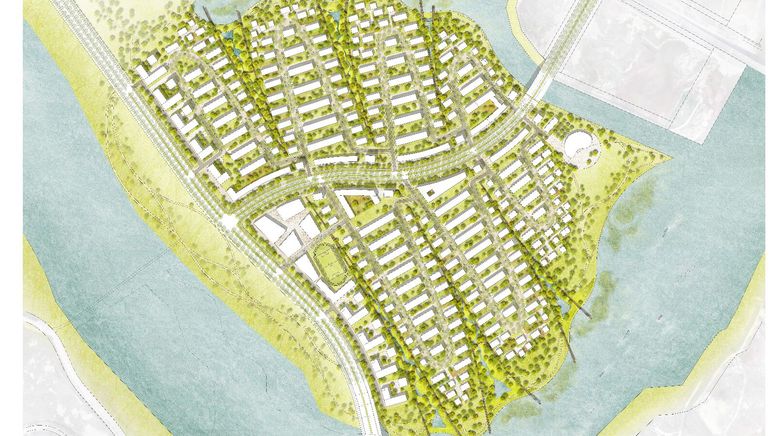 Design concept for an eco-technical housing development
The megacity Tianjin is using land reclamation measures to wrest vast areas of development land from the Yellow Sea in order to build a new neighbourhood centre for more than three million inhabitants.
Latz + Partner were commissioned in 2015, following a competitive procedure, to design a high standard, ecologically sustainable residential neighbourhood with 6,000 units for approximately 15,000 residents, including facilities such as schools, nurseries and a community centre.
The proposal has a distinctive urban design figuration in the shape of a leaf: several "housing fingers" with a mix of different types and sizes of apartments form the backbone of the estate. Various open spaces connect the area and provide access to a lake around the neighbourhood. We implemented urban planning concepts, including decentralised organisation, a mix of functions and the closing of natural and resource cycles as well as technical solutions for residential development.
Design 2015
In collaboration with:
Atelier Y Beijing BHAD Architectural Design CO., LTD
Atelier Lingyun Zhang
Consultation: Prof. Thomas Herzog, Ingenieurbüro Hausladen GmbH, stadt-land-verkehr
Client&nbspELION Goldway Co.Ltd.
Area: 64 hectares