FEME
Bremerhaven's new promenades at Handelshafen, DE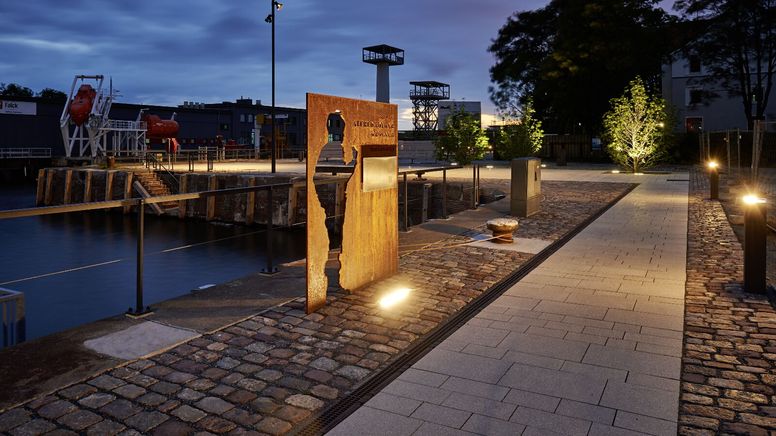 Design of the "Research and Development Mile" along the redeveloped Kajen and its integration into the Geestemünde neighbourhood
The Research and Development Mile is an intrinsic component of the "Geestemünde meets the waterfront" urban redevelopment project. The closed off former harbour has been transformed into a promenade which links the swing bridge at Borriesstrasse and the new offshore safety training centre next to the flooded dry dock.
High quality materials, furniture and light fittings provide attractive environs for future investment decisions. Footpaths connect the public open space at the newly developed Kajen with Köperstrasse in the Geestemünde neighbourhood.
The pattern of surfaces characteristic for Hafenwelten is repeated here. The main zone is paved in smooth concrete slabs; rough recycled paving stones are used along Kajen and in between the bands of flags and buildings. The central path is flanked with benches made from large oak beams in reference to the adjacent timber harbour. It widens to form squares at the junctions, with trees and long benches for stopping and sitting. Exhibits complement the axis of furniture and provide information about the work of the surrounding research institutes. Objects related to shipping supplies and lighting equipment are also integrated into the axis. A landing stage for harbour boat trips opens up the Research and Development Mile for tourists.
Design and realization: 2013 – 2015
In collaboration with Latz Riehl Partner (construction management)
Client:BIS Bremerhavener Gesellschaft für Investitionsförderung und Stadtentwicklung mbH
Area: 2.300 m²