DOMA
Neighbourhood park Domagkstraße, Munich, DE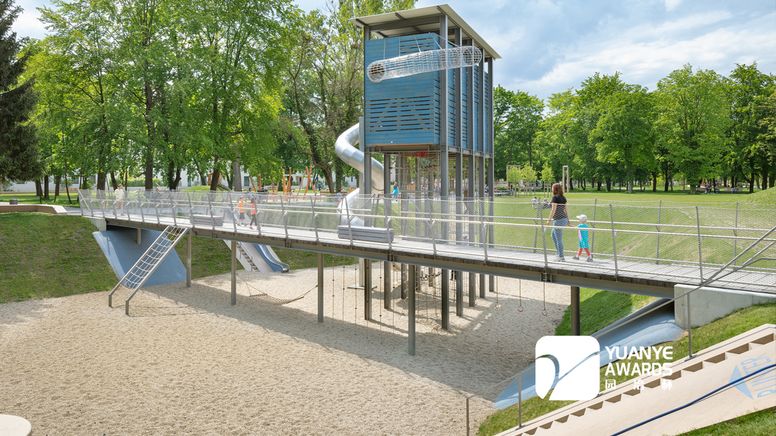 Public open space with play equipment on the former site of the Funkkaserne north of Munich
A new residential area is being developed on the site of the former barracks. Mature trees and naturally growing islands of woodland in the central part will be turned into a public "woodland park".
The primary objective of the concept is the conservation, integration and development of the existing trees whilst considering the sensitive soil profile on the Munich gravel plain. Careful crownlifting on trees, cultivation of lawns and meadows as well as low underplanting will provide broad perspectives and offer myriad possible uses.
The park is framed by broad promenades with the existing trees integrated into the surfacing. A continuous hedge conceals a level change to the gardens in the north; in the south large swathes of mowable perennials mediate between housing areas and public open space. The flexible alignment of hoggin paths criss-crossing the park responds to the existing trees, links neighbourhoods from north to south and connects into their network of paths.
Two toddlers' playgrounds are sited close to the houses along the promenade. The sunken area in the eastern part of the park was left after a building was demolished and is now used as a playground for the characteristically noisy school children.
A bridge crosses the activity area and play den which has been built directly on the natural gravel-bed.
Awards:
YUANYE

AWARD

for Professionals 2020 in der Kategorie Besondere Landschaft und Park und für den Gold Award
Design and realization: 2012 – 2018
Preconstruction & construction management: Adler & Olesch
Client: Landeshauptstadt München, Baureferat Gartenbau
Area: 4.4 hectares