SAPG
SAP Garden at Olympiapark München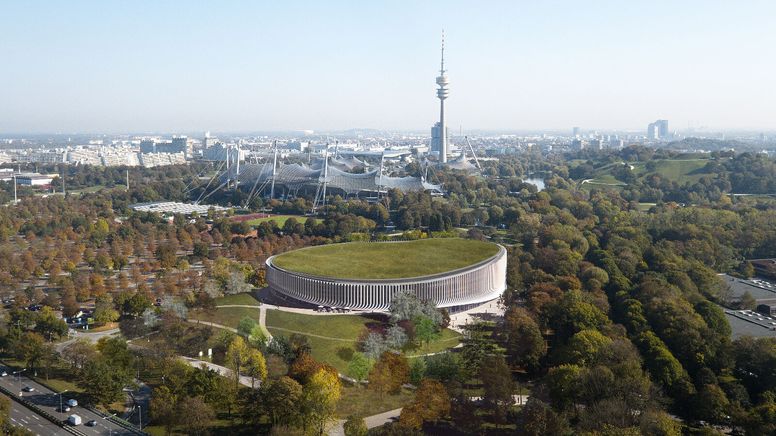 Landscape for a multifunctional sports arena
The new sports arena is to be built on the site of the former cycling stadium in the listed Olympiapark München. The design makes reference to the original vision for the masterplan for the Olympic park to create an organic architectural landscape. The future stadium for Red Bull München, the German ice hockey champion, and FC Bayern München the German basketball champion, will hold up to 11,500 spectators. Its oval shape stands out as a single building volume and its careful siting lets it merge naturally into the world-famous Olympiapark ensemble and enter into a respectful dialogue with it. The flowing roof line and the shape of the green roof mirror the landscape and create changing perspectives. The roof terrace is an elegant highlight that offers unobstructed views of the Olympic park.
Three additional ice sports centres for school, leisure and junior sports are to be built next to the arena. They are tucked under a planted mound which becomes part of the topography and allows for a logical continuation of the existing paths and landscape at Olympiapark München.
>>&nbspfor publication on gooood (Chinese) 中文
One more click for privacy. Only when you click, the video is loaded.
Source: Youtube
1st Prize in international competition 2018
Design and realization since 2019
In collaboration with: 3XN, Kopenhagen;
Further project participants: CL MAP, Stefan Huber Landschaftsarchitektur (preconstruction & construction management landscape)
Client: Red Bull Stadion München GmbH
Area: ca. 4 hectares