ZOLL
Kaufmannshof and Flößerhof - Zollhafen Mainz, DE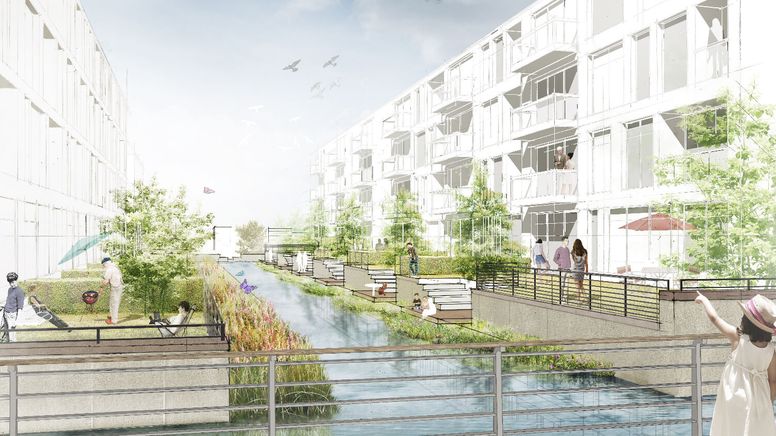 Exclusive residential complex framed by canals in the harbour district
The former customs port in Mainz will be transformed into a new inner-city district over the next few years. Eight-metre-wide "canals" frame five construction sites, the so-called "harbour islands". The linear water surfaces make the perimeter of the historic harbour basin visible and perceivable for residents and users of the new buildings. They give the newly created open spaces a pleasant microclimate and a special quality of stay.
The canals are designed as an artificial ecosystem whose water runs through a cycle with several purification phases. After an initial phase, the system will stabilise and become largely self-sustaining. Purposefully introduced planting areas and fish stocks act as starters for a natural development of flora and fauna.
Around 150 flats will be built on the Hafeninsel IV "Flößerhof" and V "Kaufmannshof" construction sites. Hafeninsel V will offer an additional 3000 square metres of rental space for office use. The buildings are grouped around high-quality inner courtyards with private and, e.g. for play areas, communal spaces, which connect to the canals running alongside with wide terraces. In this way, users, residents and visitors can experience the water surfaces, which shine in different colours depending on the weather and season, at close quarters and enjoy the plants and animals. The flats facing the transverse canals are particularly attractive: they have direct access to the water and its rich flora and fauna via front gardens and staircases.
1 prize in competition 2017
Design and implementation since 2018
In cooperation with: Meck Architekten and blauraum Architekten
Client: CAMG Zollhafen HI IV V GmbH & Co. KG
Total area open spaces: 7.300 sqm