RINV
Ringpark Groene Vesten, Antwerpen, BE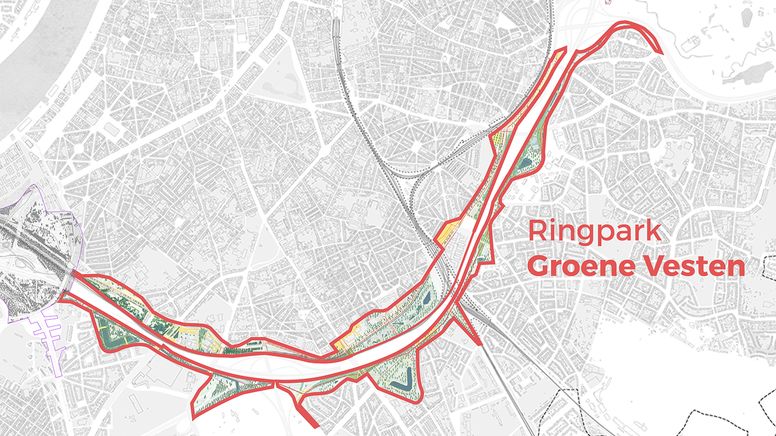 Transformation of the spaces along a ring-motorway into a large inner city park
The ambition of this project is to merge existing roadsides and residual spaces along both sides of the Antwerp Ring into one coherent metropolitan green space. This should substantially improve the quality of life of local residents: more accessible greenery, less noise and particulate matter and better cycling and walking routes. The project also anticipates the climate challenge, through extra space for water buffering, more CO2 capture and a cooling effect during hot summers.
The project area is over 6 kilometers long: it extends from Antwerp South station to the connection of the E313. It is one of the 18 liveability projects that the City of Antwerp and the Flemish Government have selected together in the context of "Over De Ring". A budget of at least 50 million euros has been reserved for the Ringpark Groene Vesten.
The Ringpark Groene Vesten can be realized quickly, because it is not dependent on the realization of the Oosterweel connection. In this way, the quality of life can improve significantly in the short term.
The BUUR-Latz-Greisch-S333 consortium had previously signed the master plan for the covering of the Oosterweel link north of the Albert Canal.
Planning since 2020
Team:BUUR (urban planning and mobility – Leuven, Lead), LATZ + PARTNER (landscape architecture and urban planning), S333 (architecture and urban planning – London), GREISCH (structural engineering – Liège), local team of planners and consultants
Client: City of Antwerp
Area: 246 hectares