BRHW
Havenwelten - Willy-Brandt-Platz and Weser Dyke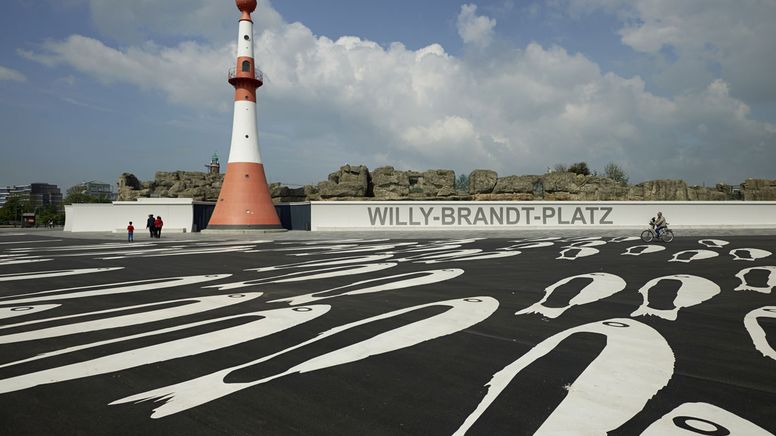 Willy-Brandt-Platz and Weser Dyke
A shoal of curious North Sea fish rushes into the newly created space below the "Zoo on the Seafront" at the harbour entrance to Bremerhaven's "Havenwelten". Since 2001, deserted and disused areas of the Old Harbour have been transformed into a new urban landscape. The hard engineering infrastructure of wind and flood control structures take the shape of vibrant elements within this landscape of powerful urban spaces.
Willy-Brandt-Platz, the new Weser dyke and the promenade extend these spaces and provide direct contact for the city and its people with "their river" and the North Sea, which is vaguely perceptible in the distance.
Two to three times a year the stranded fish return to the sea. Then the stone backrests which face the evening sun, the concrete seating elements and benches made of laminated timber, offering open views across the Weser estuary, become flood walls and wave-breakers for the protection of citizens, the city and its landscape from the raging elements. The fish make their reappearance once the danger is over.
Green Good Design 2015 Award
awarded by The European Center for Architecture Art Design and Urban Studies + The Chicago Athenaeum: Museum of Architecture and Design, Chicago, Dublin, Athens
OLB Foundation Award for Architecture and Engineering 2015
First prize for "landscape architecture and open space planning" awarded by the OLB Foundation of the Oldenburgische Landesbank
>>&nbspMaster project: Havenwelten – Old/New Harbour Bremerhaven, DE