GUAN
GuAn Sustainable City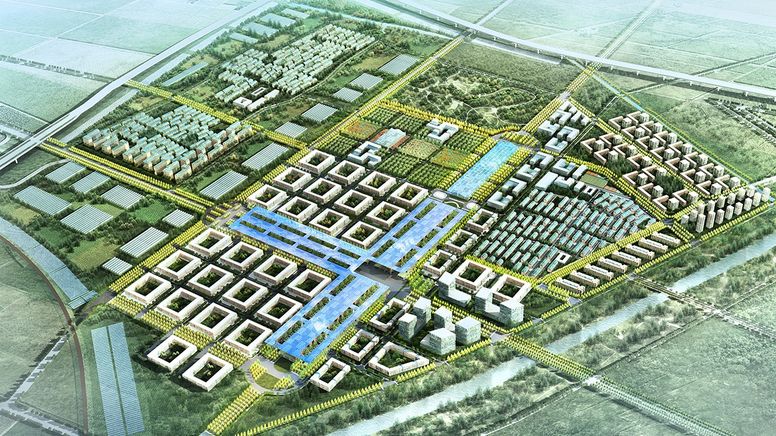 Development of an urban eco neighbourhood in south GuAn, China
GuAn and its population of 140,000 is situated between three megacities in northern China: Beijing, Tianjin and Baoding.
The south of GuAn is characterised by both rapidly developing modern industry and its old agrarian structure.
The masterplan for the new neighbourhood assumes that agricultural production will continue to play an important role in the future. The urban design strategy aims for spectacular agro-industry in combination with urban renewal and development.
In one village the urban footprint will be retained while doubling the heights of buildings and placing agricultural and energy production on the roofs. The density in the other villages will be increased and they will be connected along a park corridor.
The second phase will construct flexible block developments in the core of the new neighbourhood, laid out towards the sun for optimum orientation. A road network will provide direct access to the buildings. Office/commercial and mixed-use areas are concentrated around T-shaped clusters of tree-lined boulevards with residential buildings above which overlook open spaces situated on top of the second storey. A "crystal palace" proclaims the agricultural industry's aplomb.
Masterplan 2014
In collaboration with:
Thomas Herzog Architekten, Munich;
Atelier Y, Guangzhou,China;
Ingenieurbüro Hausladen, Kirchheim;
Client: Elion Goldway Group
Area: 650 hectares