HISB
River Port Island, Saarbrücken, DE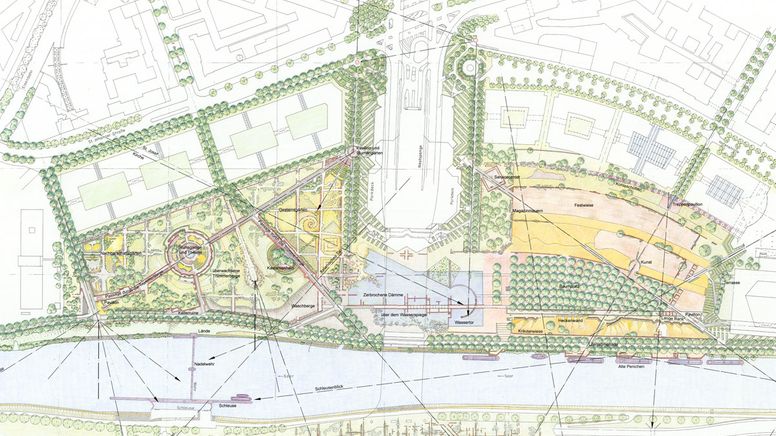 City park on the site of the former river port for the coal shipping
The destroyed river port for the coal shipping of Saarbrücken filled with debris, becomes the heart of an ecological urban renewal and natural part of the city centre – a place that should reflect its history, the infrastructure of which should reconnect torn town quarters.
Most important elements of the park are the gardens, cut into the rubble hills, protected by walls and therefore not even touched by the noise of the surrounding motorways. Their location is also determined by traces of the past, by old walls and paved surfaces which were discovered under the debris, by groups of precious old trees and by spontaneous vegetation.
The water of the pond in the center is reflecting light under the heavy mass of the concrete bridge, which crosses the river and the park. The pond is also part of the park's storm water system, collecting all the surface and drainage water of the site. The water wall is serving as an oxygenation and purification plant: water is pumped up the wall, then falls down from different levels. The sound of the water lets the noise of the surrounding motorways stay in the background: Softly murmuring in the protected garden of rest, powerfully roaring near the water wall.
Planning and realization: 1985 – 1989 (following an expert procedure)
Realization with the help of local people, pupils, students and employment schemes
Client and supervision: City of Saarbrücken
Area: 9 hectares
Award: BDLA-Award, Bonn, Germany 1989