GGFM
Frankfurt am Main's Greenbelt, DE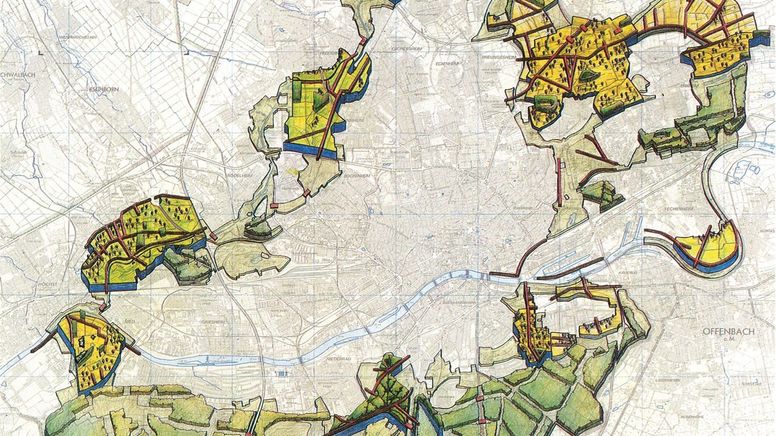 Planning for the long-term development of the landscape in the metropolitan area of Frankfurt am Main
Undeveloped open areas around urban centres and large-scale landscapes characterised by agriculture and woodlands undergo a metamorphosis by preserving their existing elements and simply enhancing them with new components and symbols.
In Frankfurt's greenbelt, nature will be both 'left untouched' and 'built up' in an archetypal dialogue between the tamed and the wild landscape. More than 50% of the green belt team's work was concerned with the provision of information and communication with district parliaments, community associations and spontaneous activities like cycle tours, children's and citizens' competitions etc.
The project was assisted by social science studies as well as expert workshops and panels which included international members.
Once the work was completed the city council adopted the strategic concept for the greenbelt as a guideline.
Ever since the public awareness of the greenbelt has been continuously raised and considerable funds were made available for its activation as an area for recreation.
The administrative process for the implementation of measures is as follows:
Formal plan based on the preparatory land use plan,
plan of action,
sectoral plans of intervention and specific landscape plans (approx. 50 ha each),
monitoring and organisation of the procedure up to a resolution by the city council.
Planning: 1990-1992
Team: "Green Belt Office" Latz, Lieser, Hegger
Client: Town of Frankfurt a. M.
Area: 8,000 hectares