HOLZ
Company Campus, Holzkirchen, DE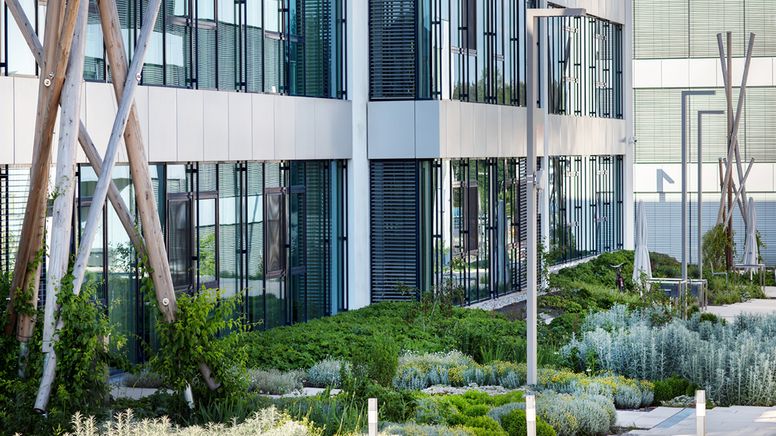 Open spaces in a newly designed company campus with attractive lounge areas and workplaces in the green.
To make the workplaces more attractive, the partly existing administration buildings and associated open spaces were converted into a green campus with a bistro lounge area.
By relocating the parking spaces to the neighbouring property, it was possible to plant the almost traffic-free areas generously and to create recreational areas of high quality where people can work alone or in small groups. Newly created W-Lan access points, outdoor power supply and appropriate furnishings enable comfortable working with laptops.
With the open offers of workplaces, "activity-based working", the workplace can be changed daily, depending on the activity, and can now also be moved outdoors.
Due to the very low construction heights of the areas underpinned by underground garages, tree planting is usually not possible. The vertical zoning of the green spaces is therefore achieved with up to 12 m high, shady trellises. They give the campus an unmistakable and identity-forming appearance. An automatic irrigation system ensures the water supply to the planting areas. The lighting, which has been converted to LED, is in keeping with the design concept.
Wide green strips divide the new car park into exciting spaces and allow rainwater to seep away. Expressive signatures produced using road marking technology enhance the simple, low-cost asphalt surfaces.
Design and realization 2017 – 2019
Latz + Partner: 1 prize in competition, preliminary and final design
Other project participants: Hautum Infrastruktur GmbH (Stage 3 with L+P, Stage 5-7, site management), HL Lichttechnik
Client: private
Area: 9.700 sqm