FENS
THE GARDEN AT 120, Fenchurch Avenue, London, UK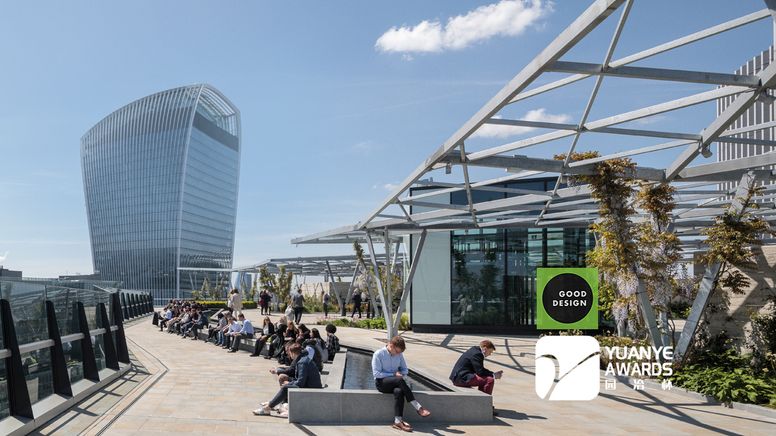 Public rooftop garden of an office building in the centre of London
The City of London's largest roof top public space. A garden for everyone high above the roofs of London, THEGARDEN AT 120 is a prominent part on top of the office development "120 Fenchurch Avenue". At the same time it is the City of London's largest roof top public space,. The garden is free for members of the public to visit, with no booking required. It offers an exclusive retreat and an exceptional open space for the local office workers, Londoners and visitors alike.
The crystalline shapes of the garden reflect the language of the architecture. The forms are taken up in the arrangement of the planting beds, surfacing, water feature and the pergola structure. Even the floor is folded to create a landscape on the roof that varies in height, solving the surface water drainage and creating different levels. The Yorkstone used as paving takes up the materiality of the footways on ground floor level to underline the garden being a public open space.
The Pergola structure crowns the building on the 15th floor where trees would have been likely to fail. The supports are designed to become the wisteria trunks of this green canopy that surrounds the visitors in summer by lush green, giving shade and framing extraordinary views of the London skyline. To ensure healthy growth of the wisteria a special substrate even extends partially beneath the paving. The metal structure of the two pergola frames also extends over large technical plant spaces and hide away the air intakes from the view of neighbouring high-rise buildings. The walls enclosing the roof facilities have been integrated into the garden design and amended to spatially improve the situation. The enclosures are turned into attractive greened walls that create protected seating opportunities.
A water basin structures the space spatially into a terrace and a seating zone. The calm surface reflects the sky, brings in cooling and conveys an intimate garden atmosphere along with the lush planting.
Awards:
YUANYE

AWARD

for Professionals 2020 in the category open space for office buildings and the Gold Award
Green Good Design 2020 Award
City Skyline Award 2019
Related links:
>>&nbsppublication on gooood (Chinese) 中文
1st prize in invited competition: 2008
Design and realization: 2011 – 2018
In collaboration with: Eric Parry Architects
Preconstruction & construction management:
Eric Parry Architects, LUC Land Use Consultants
Client: Saxon Land BV c/o Greycoat CORE Real Estate LLP
Area: 2,200 m²